News for VALVE readers who procure, specify, use, maintain, repair, sell and manufacture valves, actuators & controls.

VALVE eNews is distributed every two weeks to 25.000 industry professionals
---
White House, Democrats Reach Trade Deal

House Speaker Nancy Pelosi announced last week that an agreement is in place for passage of the U.S.-Mexico-Canada Agreement (USMCA), a major trade pact meant to replace NAFTA, which has been in effect since 1994. The new deal has the support of the National Association of Manufacturers and the Administration, and the House is expected to give its official approval as soon as this week. MORE

Equipment as a Service; Learning from the Past

A subscription model has become common for some products, such as software and consumer entertainment (e.g., Netflix). This approach can work for industrial equipment—selling the function, not the item. MORE Often the best way to avoid future incidents is to look at what's gone wrong in the past. Such was the case with the 2013 blast at Williams Olefin Plant that killed two and injured 167. MORE
---
SPONSORED CONTENT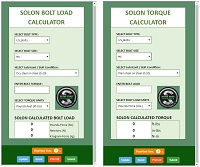 Solon Manufacturing Co.
Belleville springs & washers, when torqued, increase the preload of a bolted joint. Our Solon Bolt Load Calculator and Solon Torque Calculator web tools help determine a Solon calculated bolt load and/or torque value based on inputs relative to bolt type, size, torque value, load and unit of measure. These user-friendly calculators are provided at no cost to assist you with your search for Solon Belleville Spring & Washer products.
---
| | | |
| --- | --- | --- |
| | This email address is being protected from spambots. You need JavaScript enabled to view it. | |
VALVE INDUSTRY NEWS
Baker Hughes to Go 100% Renewable at its 170 Texas Facilities MORE
Emerson Contracted for Large Monitoring Technology Project MORE
VMA Members Make List of 'America's Most Responsible Companies' MORE
Nick Adcock to Lead Trillium Flow Technologies' Valve Division MORE
Flowserve Names Roueche Interim CFO MORE
---
END-USER NEWS
U.S. Set New Highs for Proved Reserves and Production MORE
Permian Operators Must Drill More to Maintain Current Levels MORE
EIA Revises U.S. Oil Production Forecast MORE
Survey: Governments Should Take Action on Energy Efficiency MORE
Enterprise, Enbridge Developing Gulf Crude Export Terminal MORE
---
VALVE MAGAZINE
Fall 2019:
Implementing Industry 4.0
In fall, readers learned about a study by manufacturing experts that sought to measure where today's industrial companies are in terms of the fourth industrial revolution and what their plans for the future entail. MORE

Winter 2020:
Original Equipment Manufacturer Support Services
Coming in Winter's issue is a report on how the U.S. valve industry has gone from a do-it-yourself mentality to an atmosphere where subcontracting is heavily used in areas such as support services, research and development, warranty repair, component manufacturing and other areas that help with maintenance and repair.


MANUFACTURING AND THE ECONOMY
Manufacturers Plan to Cut Capital Expenditures in 2020 MORE
Small Business Optimism Rises Again in November MORE
Global Manufacturing Expanded for First Time Since April MORE
NABE Expects Economic Slowdown in 2020 MORE
Consumer Sentiment at Highest Level Since May MORE
RENEW YOUR SUBSCRIPTION TODAY
You are receiving this email as a past subscriber to VMA emails. To ensure delivery to your inbox, add us to your safe sender list.
Go to the subscription page to manage your email preferences
You can unsubscribe at any time via the "unsubscribe" link at the bottom of this email.


VALVE MANUFACTURERS ASSOCIATION OF AMERICA
1625 K STREET, NW, SUITE 325, WASHINGTON, DC 20006
VMA.org
To ensure our newsletter always reaches your inbox, please add

This email address is being protected from spambots. You need JavaScript enabled to view it.

to your
address book. If you prefer not to receive VALVE eNews in the future, you can
unsubscribe from this list.