News for VALVE readers who procure, specify, use, maintain, repair, sell and manufacture valves, actuators & controls.

VALVE eNews is distributed every two weeks to 25,000 industry professionals
---
NAM Says Manufacturers Are Fighting the Headwinds

Despite a historic drop in optimism and challenging business conditions, the vast majority of manufacturers (almost 99%) continued to operate or halted only temporarily, according to the second quarter Manufacturers' Outlook Survey for the National Association of Manufacturers. The survey shows manufacturers are innovating to keep their businesses running and their employees safe. MORE

Learn About: Check Valves; How to Safeguard Your Data

In June and July, VMA continues its webinar program with two new topics: Check Valves: The Most Important Valve in Your Process System, presented by Arie Bregman, VP/general manager of DFT, Inc., June 25 (2-3 pm EDT); and Cyber-securing Your Mined Bytes by Angee Streeter, information security and privacy officer, Pon North America, July 9 (2-3 pm EDT). MORE
---
SPONSORED CONTENT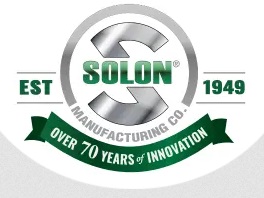 Solon Manufacturing Co.
Quickly design a live loading system for flange applications with Solon's new ANSI Flange Live Loading Design Calculator. This interactive web tool was created to assist with flange applications based on inputs relative to flange size, environment and bolting information, under normal assembly conditions. MORE
---
VMA MEMBER AND VALVE INDUSTRY NEWS
ProMation Joins Valve Manufacturers Association MORE
MRC Global President & CEO Lane to Retire at End of Next Year MORE
Union Tech and Wolseley Industrial Group Ink Distribution Agreement MORE
Emerson Plans $100M Expansion in Boulder, CO MORE
---
END-USER NEWS
Dept. of Energy Building New Advanced Nuclear Reactors MORE
U.S. Renewable Energy Consumption Surpasses Coal MORE
IHS Markit: U.S. to Halt 1.75M b/d of Production MORE
Major Shifts in Energy Supply and Demand Occurring from COVID-19 MORE
---
VALVE MAGAZINE
Spring 2020:
RP Changing Engineering and Suppling of Assemblies
In Spring's issue, readers heard about a new recommended practice for valve assemblies—what it is, what it means in the coming years and who is affected by the changes. MORE

Coming in Summer 2020:
Manufacturers Respond to Emergency Needs
Valve companies stepped up during the COVID-19 pandemic to help the medical community by providing fast turnaround on valves and other components needed for making essential equipment. Those organizations also donated protective gear, provided support to food banks and other charities and supported staff in community volunteer efforts.


MANUFACTURING AND THE ECONOMY
ISM: Manufacturing Index Reviving Very Slowly MORE
Rapid Decline in Consumer Confidence Stops in May MORE
Durable Goods Orders Down 17.2% in April MORE
Contraction Continues in Texas Manufacturing Sector MORE
U.S. Manufacturing Decline May Have Peaked in April MORE
RENEW YOUR SUBSCRIPTION TODAY
You are receiving this email as a past subscriber to VMA emails. To ensure delivery to your inbox, add us to your safe sender list.
Go to the subscription page to manage your email preferences
You can unsubscribe at any time via the "unsubscribe" link at the bottom of this email.


VALVE MANUFACTURERS ASSOCIATION OF AMERICA
1625 K STREET, NW, SUITE 325, WASHINGTON, DC 20006
VMA.org
To ensure our newsletter always reaches your inbox, please add

This email address is being protected from spambots. You need JavaScript enabled to view it.

to your
address book. If you prefer not to receive VALVE eNews in the future, you can
unsubscribe from this list.p