| | | |
| --- | --- | --- |
| | | News for VALVE readers who procure, specify, use, maintain, repair, sell and manufacture valves, actuators & controls. VALVE eNews is distributed every two weeks to 25,000 industry professionals |
---
First U.S. Small Nuclear Reactor Design Approved

A company in Oregon recently made history when it received the first okay from the U.S. Nuclear Regulatory Commission (NRC) on a design for a small modular reactor (SMR). The approval of NuScale Power's design means power companies can now apply to NRC to build and operate the reactors, which could break a streak of three decades of no nuclear construction in this nation. MORE

Women in Industry Hold a Quarter of Top Positions

A recent study conducted by Thomas Industrial Survey in collaboration with the organization Women In Manufacturing explored the status of women in the industrial workforce today. About one-third of manufacturing employees are women, and they hold one-quarter of the upper management positions. Recruitment, mentoring and training are keys to increasing female representation. MORE
---
SPONSORED CONTENT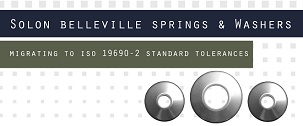 Solon Manufacturing Co.
Solon Manufacturing Co. is migrating to ISO 19690-2 Disc Spring, Grade A, specifications for Belleville springs and washers listed in our catalog product offering. In doing so, the process for our customers to choose the correct Belleville springs & washers for their applications is simplified, enhancing the user experience.
Conforming to ISO 19690-2 will ensure a reliable fit of Solon Belleville Springs & Washers into customer applications. A consistent tolerance scheme will eliminate ambiguities and improve precision. Learn more...

---
VMA MEMBER AND VALVE INDUSTRY NEWS
Baker Hughes and Aramco Form Joint Venture in Saudi Arabia MORE
VMA Welcomes CGIS as a New Distributor/Channel Partner Member MORE
Emerson Selected to Modernize TVA Power Plant MORE
Highland Foundry Honored at Annual Pinnacle Awards MORE
Curtiss-Wright Announces CEO Succession Plan MORE
Neles Adds Eight New Channel Partners in the Americas MORE
---
| | | |
| --- | --- | --- |
| | This email address is being protected from spambots. You need JavaScript enabled to view it. | |
END-USER NEWS
Chemical Industry Outlook: Recovery from the COVID-19 Global Recession MORE
U.S. LNG Exports Set New High Mark in November MORE
EPA Finalizes Clean Air Act Rule Change MORE
LyondellBasell and Sasol Complete $2B Joint Venture Transaction MORE
---
This email address is being protected from spambots. You need JavaScript enabled to view it.
VALVE MAGAZINE
Be sure to read this article from the Fall 2020 issue:
An Overview of ASME B16.34-2017
This ASME standard for flanged, threaded and welded-end valves covers areas such as pressure-temperature ratings, materials, marking and other characteristics for cast, forged and fabricated valves. MORE

Coming in Winter 2021:
Isolation Valves for High-solids Severe Service
Slurries can range from fine, slowly settling particles suspended homogenously to coarse, rapidly settling particles that are heterogeneously mixed. Understanding the different densities and how they behave can help decision makers choose the right isolation valve for an application.


MANUFACTURING AND THE ECONOMY
Industrial Production Increased in November MORE
ISM: Manufacturing Grew at Slower Rate in November MORE
U.S. Added 245,000 Jobs in November, Short of Expectations MORE
Biden Won't Remove Chinese Tariffs on Day One MORE
RENEW YOUR SUBSCRIPTION TODAY
You are receiving this email as a past subscriber to VMA emails. To ensure delivery to your inbox, add us to your safe sender list.
Go to the subscription page to manage your email preferences
You can unsubscribe at any time via the "unsubscribe" link at the bottom of this email.


VALVE MANUFACTURERS ASSOCIATION OF AMERICA
1625 K STREET, NW, SUITE 325, WASHINGTON, DC 20006
VMA.org