| | | |
| --- | --- | --- |
| | | News for VALVE readers who procure, specify, use, maintain, repair, sell and manufacture valves, actuators & controls. VALVE eNews is distributed every two weeks to 25,000 industry professionals |
---
Texas Freeze Lowers Expected Shale Outputs

U.S. shale producers forecast lower oil outputs in the first quarter than originally forecast thanks to the winter storm that hit the South. The freeze benefited natural gas producers but harmed the shale industry because frozen pipelines, interrupted power supplies and other challenges forced the closure of shale oil wells. Producers have said it will be several weeks before some wells can start back up, which resulted in lower output forecasts. MORE

Ransomware Threatens Industrial Controls

Because facilities in critical infrastructure industries are interconnected, a computer intrusion is especially dangerous—with the potential for disrupting supply chains and creating safety concerns. One such incursion, ransomware, infects an organization's network, making files unavailable then demanding payments to get systems functioning again. These intrusions are a threat to the nation's industrial control systems, but protective measures can be taken. MORE
---
SPONSORED CONTENT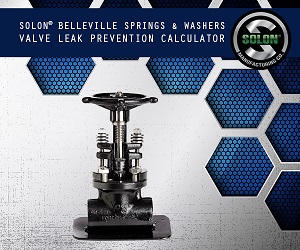 Solon Manufacturing Co.
Increase the value of your valve live loading system by using Solon's valve leak prevention calculator. This application-specific product selection tool allows you to quickly design a live loading system for valve applications. Calculated outputs include the most economical recommendation of Solon Belleville Springs & Washers, along with stacking arrangements and quantities, bolt load and torque, and a helpful installation visual for your valve applications.
---

---
| | | |
| --- | --- | --- |
| | This email address is being protected from spambots. You need JavaScript enabled to view it. | This email address is being protected from spambots. You need JavaScript enabled to view it. |
VMA MEMBER AND VALVE INDUSTRY NEWS
Baker Hughes Signs Agreement to Acquire ARMS Reliability
Emerson Announces Leadership Changes
Victaulic Acquires Waupaca Foundry's Manufacturing Facility
MRC Global Celebrates 100th Anniversary
END-USER NEWS
Texas Power Grid Overmatched by Severe Winter Weather
U.S. Petroleum Imports to Increase Dramatically by 2022
Chevron Attempting to Acquire Noble Midstream Partners
U.S. Chemical Production Ends Year on a High Note
---
VALVE MAGAZINE
Be sure to read this article from the Winter 2021 issue:
Practical Steps for Transferring Knowledge
The transfer of knowledge can be encouraged and facilitated by using three techniques for learning quickly: peer assist, action review and retrospect. MORE

Coming in Spring 2021:
Standards: Refinery Pressure/Temperature Ratings
Because of how materials for valve packings have changed over the years, a multitude of standards are in use today, some of which require unattainable emissions performance levels. Much discussion is underway on changing testing standards to take into consideration more realistic temperature and pressure parameters.


RENEW YOUR SUBSCRIPTION TODAY
You are receiving this email as a past subscriber to VMA emails. To ensure delivery to your inbox, add us to your safe sender list.
Go to the subscription page to manage your email preferences
You can unsubscribe at any time via the "unsubscribe" link at the bottom of this email.


VALVE MANUFACTURERS ASSOCIATION OF AMERICA
1625 K STREET, NW, SUITE 325, WASHINGTON, DC 20006
VMA.org
To ensure our newsletter always reaches your inbox, please add

This email address is being protected from spambots. You need JavaScript enabled to view it.

to your address book. If you prefer not to receive VALVE eNews in the future, you can
unsubscribe from this list.